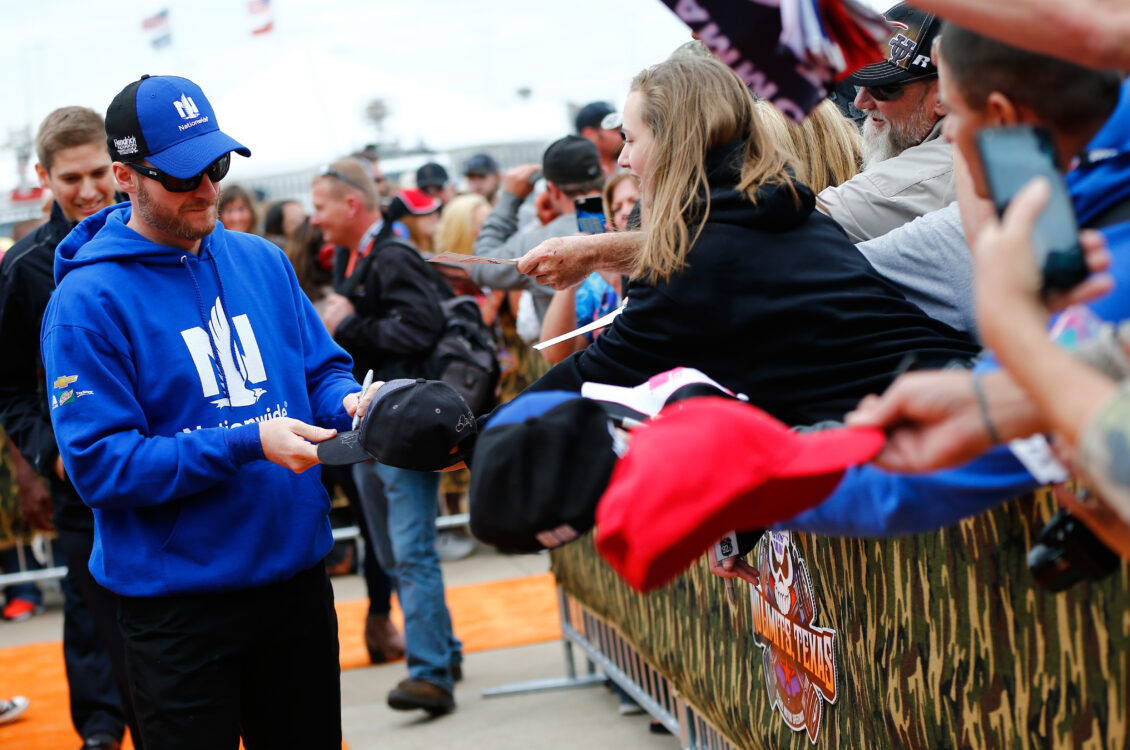 Learning some NASCAR etiquette will help you fit right in and have more fun
Watching NASCAR on television is one thing; experiencing it live is a different experience altogether. Knowing such things as what to wear and what not to bring can separate the rookie attendee from the seasoned pro, and it will help you from making any newbie faux pas.
Since you may not know what to expect your first time at the track, here's a quick cheat sheet on how to make the most of your experience.
No. 1: Use the buddy system
As with most things in life, going to see NASCAR with a friend is way better than flying solo. Preferably, that friend will have been to a race or two and can walk you through things. They'll be able to help you find your way around the grounds and can answer any questions you might have.
No. 2: Dress the part
NASCAR fans wear their love of the sport on their sleeves – and just about everywhere else, too. Wearing NASCAR-themed shirts and hats (or heck, even a full-body fire suit) means that you'll fit right in. If you don't already have a NASCAR-ready wardrobe, you can make your first stop the official NASCAR shop at the track. And wearing your devotion for a driver is a great way to start conversations with other fans.
No. 3: Leave the backpack at home
You know that guy who holds up the line because he brought a big backpack that security has to search? Or the woman who brought a giant purse? Don't be them. Go minimalistic on your carry-along items and if you need a bag, opt for a fanny pack or even a clear backpack that will let you breeze right through security checkpoints and get to the real fun.
No. 4: Join the crowd
NASCAR is all about fun and community, so be prepared to be part of things. The fans are enthusiastic and lean toward the rowdy side – embrace it! No point being a stick in the mud when everyone else around you is having fun. So whether it's a handmade banner, a foam finger, or a professionally made banner you bought online, wave it with pride and don't hold back.
No. 5: Study up beforehand
New to NASCAR? You don't need to show it. Study up a bit before you hit the track so you have a good grasp of how it all works. True fans stay up to date on rule changes and NASCAR news, so it wouldn't hurt to brush up a bit before you try to blend in.
No. 6: Choose comfort over fashion
Sure, you want to look your best, but trust us, comfort is king at a NASCAR race. That means leaving the sandals and high heels at home and going for a pair of comfortable shoes. Wearing rubber-soled shoes is a good idea because you're going to be walking on some unforgiving surfaces (concrete, gravel, etc.). You'll also want to check the weather and plan ahead for heat, cold, rain or whatever else may come your way.
No. 7: Keep your cool(er)
You're going to have a long, fun day at the track, and it's important that you stay properly fueled. Bringing a cooler with your favorite beverages and/or snacks will keep you going! (Most tracks allow coolers onsite, but always be sure to check the track's website for details before you go.)
No. 8: Get digital
Your best guide to the track is often found online. Visit the track's website for maps and important information, and see if they have an app that will tell you what you need to know once you get there. Check out these must-have NASCAR apps.