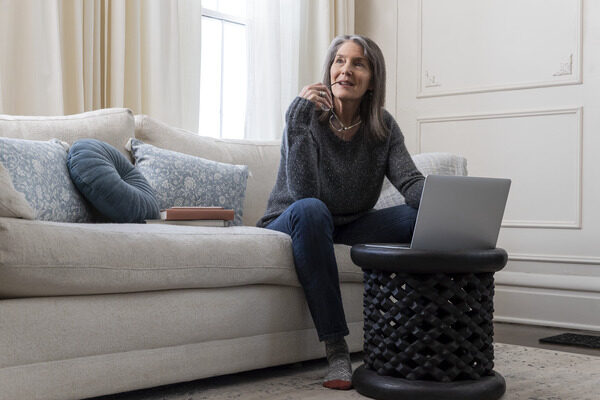 Whether you're starting a business or already have one, creating a website for your business is essential for reaching potential customers. A website allows you to attract customers while creating and controlling the message you send. In most cases, your website will be the first impression customers get of your company, and you want it to be a positive one.
Whether customers are looking for a vendor, store or advisor, they'll trust a business with a professional-looking website. Fortunately, building a website is relatively easy when you know the key components to include.
What to include on your website
The first step in figuring out how to create a business website is setting an overall goal. The purpose of your website should be to anticipate what consumers want to know and provide that information in a way that aligns with your image and brand. To accomplish that goal, your website should be a blend of written content and images that convey the message you want to send about your company.
What you do: The homepage should make it clear what your business does and the specific services or products you offer. It should be simple and to the point, with clear graphics and easy navigation.
About you: Customers want to know who's behind the business. Learning about the business's background humanizes the company and builds trust in your brand. Some information to share could include awards, years in business, an explanation of why you started your business and what makes the company special. If you have a family business or have been operating for several years, you may want to include a brief history of the company.
The team: Sharing short staff bios is another way to humanize your business. It also lets potential customers know more about your team and each member's expertise. This is particularly important for businesses that offer services as opposed to products because it lets customers know how well employees are equipped to meet various needs.
Contact information: This is critical. Let customers know how to contact you. Offer several methods, including a phone number, email address, a contact form and the address of your business, if appropriate. If customers will visit your business, embedding a searchable map is helpful.
Social media: Include links to your company's social media pages. You can get additional followers and allow customers to stay up to date on your business and any sales, specials or offerings. This is another way for customers to contact you. Having a positive initial interaction via social media can also help solidify their decision to purchase from your company.
Testimonials: Customers want to know what others think about your business. When creating your website, ask current customers for testimonials to publish on your site, or link to an online review site featuring your business.
Articles: Content marketing via a blog is a great way to gain customers because it displays your expertise while helping them. Include useful posts on your site that can help educate and share information of interest to your audience without directly selling them services. For example, a day spa could feature posts on why a massage is good for reducing stress, new techniques in hair coloring or videos showing how to apply makeup for a special occasion.
DIY or hire a designer?
Depending on your available time and technical abilities, you can design your own site. There are a number of software platforms you can use to create your own site, with templates that make it easy to select the page types you want to incorporate. Many of these allow you to cut and paste text or drag and drop images right where you want them to show up on a page. Some website hosting companies also offer templates that are easy to use.
If you're asking yourself "Should I hire a web designer?" think about what you want your site to be. If you aren't tech savvy or if you want a more elaborate site, a skilled designer would be a good investment. Be prepared to give them information up front about what you want. Before you contact designers, compile a list of sites with designs similar to what you envision for yours. You may also need to provide a draft of the written content you want to include, which you can write yourself or have a copywriter prepare for you.
Remember, the main benefit of a website is sharing information about your business with potential clients. You'll educate your customer base while showing your expertise, which builds trust and consumer confidence.
Attracting and retaining customers with a website is only one element of securing your company's future. Keep your business protected from the unexpected with small business insurance that safeguards against unforeseen events.