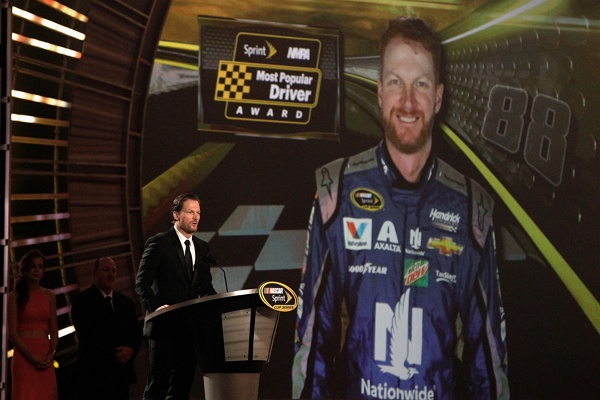 For the 14th consecutive year, Dale Earnhardt Jr. has been named the National Motorsports Press Association's (NMPA) Sprint Most Popular Driver. The honor, announced Dec. 2 at the NASCAR Sprint Cup Series Awards program in Las Vegas, extends Earnhardt's record-setting streak and puts him closer to the all-time mark.
Only Bill Elliott, who has won 16 Most Popular Driver Awards, has earned the title more times than Earnhardt. The coveted award has been handed out annually since 1953 and is the only major NASCAR award that is determined by fans.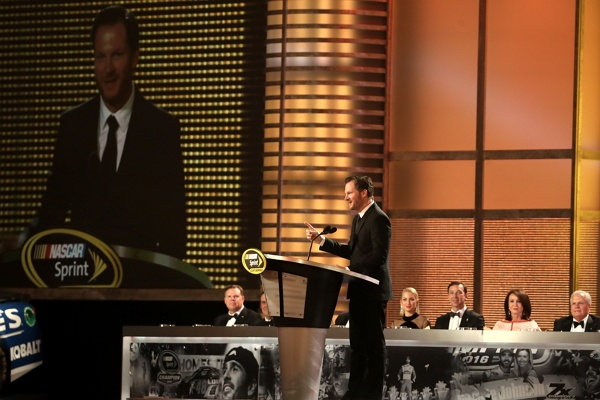 Making history
When the competition first began, the winner was determined through a poll of drivers taken at the end of the season. Then, the press began voting for the winner before the power of determining the outcome was turned over to the fans in 1984.
After Bill Elliott took home the honor for the 16th time in 2002, Earnhardt won the honor for the first time in 2003. He is the only driver to win it consecutively for more than 10 years, and is one of only four drivers to win it six or more times. Only four other drivers – Bill Elliott, Darrell Waltrip, Bobby Allison and Richard Petty – have been named Most Popular Driver consecutively.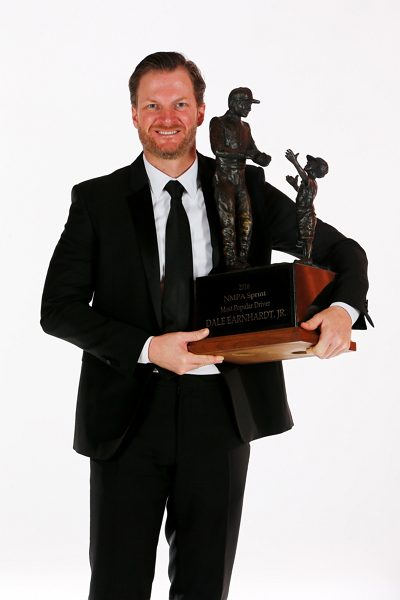 No. 1 in their hearts
To determine the winner, fans vote online at www.mostpopulardriver.com. Because they are allowed to vote online, fans across the country and around the world have a chance to participate.
For Earnhardt, who missed the last 18 races of the season while recovering from a concussion, this year's award has special meaning.
"I just want to thank all the fans who voted for the Most Popular Driver Award," Earnhardt said in a taped segment following the awards. "Together we've won this award 14 times, and I'm overwhelmed to be able to accept it for you guys."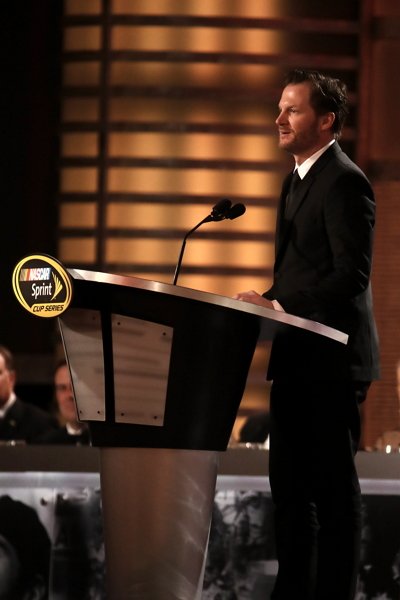 He went on to acknowledge that it has been "a challenging year for all of us" and thanked his fans for helping him get through his recovery.
"I'm excited to get back to the track and see all of y'all throughout the season. Have happy holidays and a Merry Christmas, and we'll see you at Daytona in February."
In addition to receiving the award, Earnhardt had other big news that night, announcing that he and fiancée Amy Reimann are marrying on New Year's Eve.
Find out what else Dale Jr. has in store for 2017 with a look at No. 88's new paint scheme.