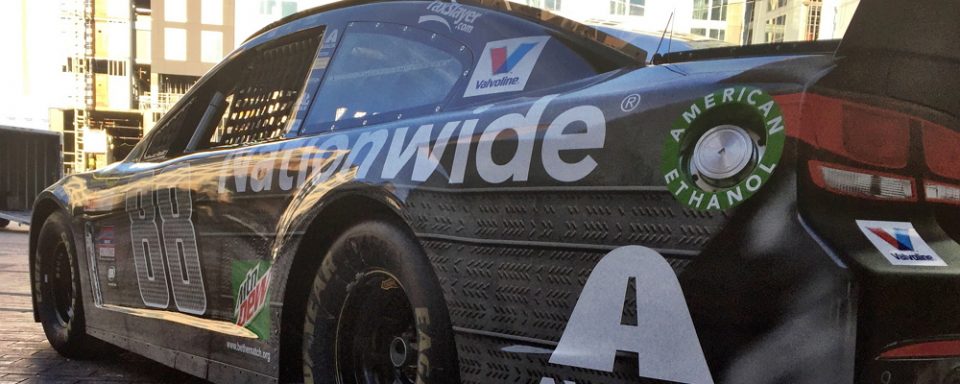 For years, fans of Batman and Superman have debated over which Super Hero reigns supreme. Now, that heated debate is being reignited with a little help from two of NASCAR's most popular drivers.
When Dale Earnhardt Jr. and Jimmie Johnson hit the track in Fontana, California, on March 20, their cars will sport distinctively different looks. Dale Jr.'s No. 88 Nationwide Chevrolet SS will be transformed with a Batman theme, while Jimmie's No. 48 Lowe's Chevrolet SS will feature a Superman paint scheme.
The two teammates will take to the track for the ultimate Super Hero showdown in anticipation of the new Warner Bros. film, "Batman v Superman: Dawn of Justice." The two special paint schemes are just the beginning of the fun, however.
The activities continue at the racetrack where "Batman v Superman: Dawn of Justice" props, costumes, the Batmobile and the Nationwide Batman and Lowe's Superman show cars will make an appearance in the Fan Zone.  Retailers began selling NASCAR merchandise featuring the Super Hero paint schemes in January, so if you can't make it to the California race you can still check out some of the merchandise at your favorite NASCAR retailer.
Superfans and Super Heroes
For one lucky fan, the race will be part of an exciting, once-in-a-lifetime adventure.  Nationwide held a contest to randomly select one winner to attend the "Batman v Superman: Dawn of Justice" premiere. In addition, the winner received two tickets to an upcoming NASCAR race and a chance to meet Dale Jr. in person.
"Nationwide is excited to join forces with Dale Earnhardt Jr. who will be driving a Batman-themed paint scheme," says Nationwide's senior vice president of marketing, Mike Boyd. "We're looking forward to seeing our No. 88 Nationwide Batman paint scheme on the track and are sure it will be big fun for millions of race and Batman fans alike."
Dale Jr.'s car will showcase the instantly recognizable Batman emblem and emulate the textures of the Caped Crusader's suit; Jimmie's car will bear the iconic "S" shield and also borrow textures from Superman's suit. For the race weekend, both Dale Jr. and Jimmie are wearing custom fire suits designed with the emblems of their respective Super Heroes.
And, regardless of who wins on the big screen when the movie opens March 25, NASCAR fans will love seeing Batman v Superman on the track.