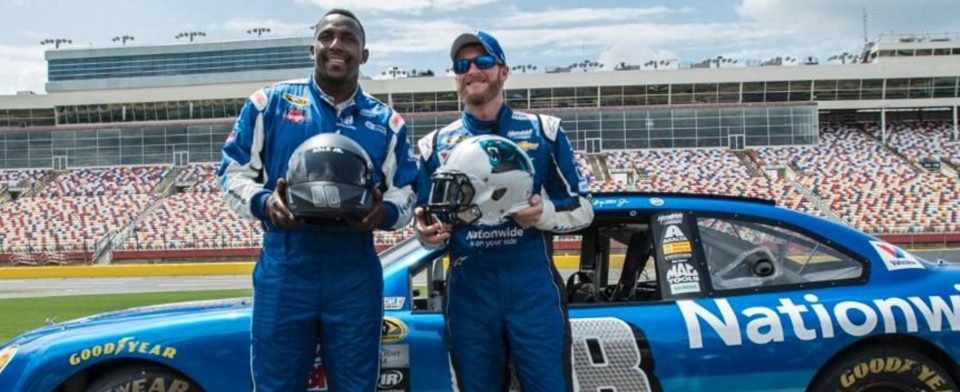 Carolina Panthers linebacker Thomas Davis has devoted much of his playing career to making the dreams of needy children come true. It was those efforts that led him to winning the Walter Payton NFL Man of the Year Award, presented by Nationwide. Last weekend, Nationwide made one of Thomas' dreams come true.
Nationwide arranged for Thomas to be the honorary pace car driver at this year's Coca Cola 600 at the Charlotte Motor Speedway. On Tuesday, under the watchful eye of NASCAR officials, Thomas took the pace car certification course and was cleared to drive the pace car to start Sunday's race.
But his day wasn't done. Nationwide also set up a once-in-a-lifetime driving experience for Thomas with Nationwide member and NASCAR legend Dale Earnhardt Jr. After exchanging gifts, Thomas hopped into the passenger seat of Dale's Nationwide 88 Chevy and took a few hot laps with Junior. The two reached speeds of 175 MPH during their five laps. After the experience was over, Davis was all smiles.
"It was an amazing feeling, just to be out there in that car and going around the track at the speed that we were," said Davis. "I was trying to look over at some of the signs and it was like a blur."
Junior was impressed with Davis.
"I figured he was going to be hard to scare," Earnhardt said. "He was filming the whole thing with his phone like we were going down the interstate.
Before performing his pace car driver duties on race day, Davis and his family met with Dale Earnhardt Jr. and met with the media, where he thanked Nationwide for contributions to the Thomas Davis Defending Dreams Foundation.
Nationwide has donated more than $100,000 to the Thomas Davis Defending Dreams Foundation, which provides and promotes free programs that enhance the quality of life for more than 2,000 underprivileged children and their families annually.
"Thanks to Nationwide's support, our foundation has reached heights I've never thought possible," Davis said. "I'm grateful to have them on my side."